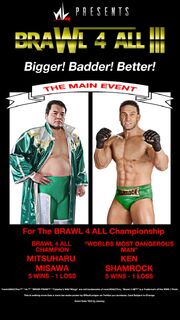 Brawl 4 All 3: Misawa vs Shamrock was a nL Brawl 4 All event which took place on March 10, 2018. The main event saw Brawl 4 All Champion Mitsuharu Misawa defend his title against challenger Ken Shamrock.
Background
Edit
Ken Shamrock stands tall as the very first winner of nL's Brawl 4 All tournaments. His career, however, seemed to stall afterwards, not appearing again until Brawl 4 All: Misawa vs Ryder, where he fought the three other previous winners (Abyss, Chyna and Rikishi), winning after submitting both Rikishi and Abyss. A month later, following Misawa vs Tatanka, the Brawl 4 All Committee decided to give Ken Shamrock a title fight against the most defendingest champion in Brawl 4 All history (that is to say the only person to actually successfully defend it), champion Mitsuharu Misawa. These two titans will collide soon.
Following a devistating loss to Takayama at Misawa vs Ryder, Mike Awesome vowed to get back at him. And though he lost a tag team match earlier in the night, Awesome made good on that promise at Misawa vs Tatanka as he defeated Takayama two falls to nothing. While many assumed this would lead him to a title opportunity, the Brawl 4 All Committee had other plans, as it was decided that Awesome would face another intense competitor with a tarnished record, Abyss. Abyss, being a former Brawl 4 All tournament winner, is no stranger to danger. Now both men's wills and bodies will be put to the test as these two monsters among men will brawl inside a weapons filled, 20ft high steel cage, with the winner earning an opportunity at the winner of the Brawl 4 All Championship bout.
Since his debut Willem Ruska has been an unstopable beast. Claiming the unofficial title of "King of Open Challenge", Ruska has taken on all challenges, all two of them so far. But the heat is on Ruska now more than ever, as a third consecutive win will surely put him in line for a future Brawl 4 All Championship opportunity. Can Ruska's mystery opponent throw all of his momentum out the window? Or will the KoOC prove once again why the octagon is his kitchen?
And finally, after several shows of multi-man action, it's finally time for a champion of multi-man matches to be crowned. 8 competetors will square off in an 8 Way Scramble to crown the first ever champion of a title that has no name as of right now. Who will rise up and take it?
| Matches | Stipulation |
| --- | --- |
| Mitsuharu Misawa (c) vs Ken Shamrock | Brawl 4 All Championship |
| Mike Awesome vs Abyss | Steel Cage Deathmatch to determine the #1 Contender for the Brawl 4 All Championship |
| Willem Ruska (c) vs Balls Mahoney | King of Open Challenge |
| The Disciple vs Moose vs Kevin Nash vs Hayabusa vs Barry Darsow vs Killian Dain vs Ernest Miller vs Homicide | 8 Way Fuckfest for the Fuckfest Championship |
| Ring Ka Sting (nWo "Sting" and Sonjay Dutt) vs Xtremely Funny (Doink the Clown and Matt Hardy) | Tag Team match |
| Little Guido vs Ricky Fuji | Deathmatch |
| Yoshinami Ogawa vs El Generico vs Kama Mustafa vs Kevin Nash vs Steve Austin vs BXB Hulk | 6 Man free 4 all |
| Tomoaki Honma and El Patron vs The Clown Car (Jeff Jarrett and Doink the Clown) | Tag Team match |
| Scotty 2 Hotty vs Lance Catamaran vs Kenny Omega vs Ricochet vs Bray Wyatt | There Was Five of Them |
| Blue's Clues (Kensuke Sasaki, Bob Backlund and Chuck Liddell) vs 3 Count (Shane Helms, Super Calo and Eita) | 6 Man Tag Team match |
| Vader and Yoshinobu Kanemaru vs Obariyon and Mickie James | Tag Team match |
#
Winner(s)
Loser(s)
Notes
1
Moose
Barry Darsow, Ernest Miller, The Disciple, Killian Dain, Homicide and Kevin Nash

Eliminations:

1. Barry Darsow at 5:53 via superkick by Ernest Miller

2. Ernest Miller tapped to something by Homicide at 7:17

3. The Disciple at 7:49 via a lariat by Dain

4. Killian Dain at 9:04 via chokebomb by Moose

5. Hayabusa at 9:18 via elbow drop to the back of the neck by Moose

6. Homicide at 11:11 via Rainmaker by Moose

7. Kevin Nash at 12:32 via Go 2 Knee by Moose

Moose is officially the first Fuckfest Champion

2
Matt Hardy and Doink
nWo Sting and Sonjay Dutt

Eliminations:

1. NWO Sting at 11:35 via Twist of Fate by Hardy

2. Sonjay Dutt at 11:48 via a single, minor punch by Hardy

3
Ricky Fuji
Little Guido
Fuji killed Guido with a superkick after 19:30 of fucking murder
4
Kevin Nash
El Generico, BXB Hulk, Yoshinari Ogawa, Steve Austin and Kama Mustafa

Eliminations:

1. Generico at 7:31 via Emerald Flowison by BXB Hulk

2. BXB Hulk at 8:15 via suplex by Ogawa

3. Ogawa at 9:17 via shoulder breaker by Kama

4. Austin at 10:10 by Kama

5. Kama at 11:06 via lariat by Nash

5
Willem Ruska
Balls Mahoney
Ruska broke Balls' arm in 4:34 of round 1
6
Tomoaki Honma and El Patron
Jeff Jarrett and Doink the Clown

Eliminations:

1. Doink at 12:32 via kick by El Patron

2. Honma at 12:43 via Russian legsweep by Jarrett

3. Jarrett at 13:38 via gut buster by El Patron

7
Lance Catamaran
Kenny Omega, Scotty 2 Hotty, Ricochet and Bray Wyatt

Eliminations:

1. Omega at 11:47 via chokeslam by Wyatt

2. Scotty at 20:01 via chokeslam by Wyatt

3. Ricochet at 21:07 via Sister Abigail by Wyatt

4. Wyatt submitted to the Shut the Fuck at 25:09

8
Kensuke Sasaki, Bob Backlund and Chuck Liddell
Shane Helms, Super Calo and Eita

Eliminations:

1. Super Calo at 9:50 via ass bomb by Backlund

2. Eita at 10:34 via double backdrop by Sasaki

3. Helms submitted to choke by Liddell at 11:19

9
Mike Awesome
Abyss
Awesome submitted Abyss with a camel clutch at 22:25
10
Vader and Yoshinobu Kanemaru
Obariyon and Mickie James

Eliminations:

1. Mickie James at 10:30 via back elbows by Vader

2. Obariyon at 11:44 via clubbing blows by both Kanemaru and Vader

Main Event
Mitsuharu Misawa
Ken Shamrock
Misawa knocked out Shamrock with a Tiger Driver at 1:19 of round 3 to retain the championship.