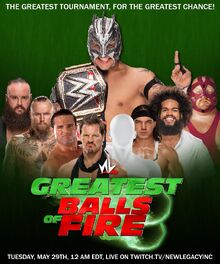 Greatest Balls of Fire is a nL Universe Special produced for the Smackdown Brand. It took place on May 29, 2018, 2 hours after the actual SmackDown Live, taking place in different locations in Saudi Arabia.
The event's card will consist of an 8 men tournament to determine who will face Kalisto for the WWE Championship at Wrestlemania.
Background
Edit
On May 27, nL Smackdown General Manager Greg Valentine announced a tournament will take place on a special he called "Greatest Balls of Fire" to decide who will be the #1 contender that will face Kalisto at Wrestlemania. Moments later, Manny Faberino, a WWE prospect who appeared at the Greatest Royal Rumble and the newest member of the Big Dawg crew, announced that he will be present at the show as the Special Guest Commentator and that he is the show's Financier & Promoter. He then revealed the 8 Participants for the tournament, they are:
Chris Jericho
Vader
Chad Gable
Braun Strowman
No Way Jose
British Bulldog
Aleister Black
while the 8th man is someone that Manny Faberino requested to appear on the show.
 
Opening Round
Semifinals
Finals
 
 
 
 
 
 
 
 
 
 
 
 
 
 
 
1
 Chris Jericho
Pin
 
2
 Vader
 
 
 
1
 Chris Jericho
 
 
 
4
 Braun Strowman
Pin
 
3
 Chad Gable
 
 
4
 Braun Strowman
Pin
 
 
 
4
 Braun Strowman
Sub
 
5
 No Way Jose
 
 
5
 No Way Jose
CO
 
6
 British Bulldog
 
 
 
5
 No Way Jose
Pin
 
7
 Aleister Black
 
 
7
 Aleister Black
Pin
 
8
 Manny Faberino
 
 
#
Result
Sitpulation
Dirtsheet Notes
1
Chris Jericho def. Vader
Round 1 match

Jericho pinned Vader off a Codebreaker
nL Jericho is pissed that his 2 favourites is in this match, let alone the opener
Johnny may or may not accidentally spoil who Manny Faberino's mystery pick is

2
Braun Strowman def. Chad Gable
Round 1 match

Braun pinned Gable off the reverse chokeslam
New Day's theme played and distracted Braun, as Manny turned into a robot.
Turns out New Day made a run in... at the wrong arena.
Gable got these hands, and is now shoot dead and according to Manny, might have a heroes burial at the Dead Sea.

3
No Way Jose def. British Bulldog
Round 1 match

No Way Jose won via countout
British Bulldog hit Duel in the head with a trash can to get a spot in the tournament and now is in a coma
Bulldog has made it known that he wants to take the WWE Championship to Raw.
The Ref is so Jet-lagged he forgot to count to 20

4
Aleister Black def. Manny Faberino
Round 1 match

Black pinned Manny off of Black Mass
MANNY INSERTED HIMSELF! NOBODY KNEW! IT TOTALLY WASN'T SPOILED EARLY!

5
Braun Strowman def. Chris Jericho
Semifinal match

Braun pinned Jericho off the running powerslam

6
No Way Jose def. Aleister Black
Semifinal match

Jose pinned Black off the No Way

7
Braun Strowman def. No Way Jose

Finals to determine the #1 contender for Kalisto's WWE Championship

Braun choked out Jose with his chokey dealy
This match was delayed due to British Bulldog causing havoc backstage, attacking production trucks and commentators alike.
---