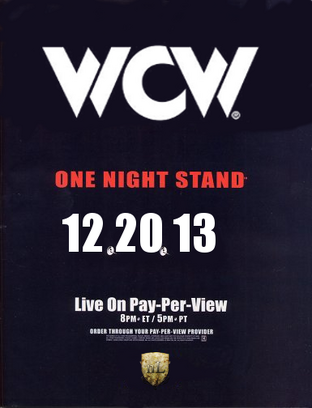 Match Card
Edit
No
Result
Stipulation
Notes
1
The Disciple, Robocock, Brickowski def. Brickowski (Wait.. WHAT!), 'Das Vonder Kid' Alex Wright, Lord Steven Regal

Six Man Tag Team Extreme Fucking Rules Match

There was two Brickowskis
Russo booked so many swerves no one knew who was on who's team
Russo couldn't not get the current Robocop, so he decided on an old porn parody model named, Robocock
Robocock is really funny

2
Kenny Kaos def.The Zodiac, 'The Colonel' Rob Parker , & Chucky 
Fatal Four Way TLC Elimination Falls Count Anywhere Special Guest Referee Match for the WCW Televison Title

Originally planned to have Syxx as a Special Referee, but he was drunk and no showed
Match dedicated to Dino Winwood
Owen Hart did not die, but merely went to WCW to beome Kenny Kaos
Rob Parker seemed to have froze time and space around him during the match
Kenny Kaos didn't give two shits about tables
The match turned into a slow motion Chikara match
Chucky pulled out a Double Top Ladder Stunner Swerve

3
'Violent Sr.' Dennis Rodman def 'Violent Sr.' Dennis Rodman (What the Fuck?) & Ice Train (aka Fat Dennis Rodman in a singlet).
Triple Threat Hell in a Cell Match for the WCW World Heavyweight Championship

This took place in one of Jerry Lawler's favorite matches, Hell in a Cell.
There were two Dennis Rodmans
BAW GAWD one of the Rodmans was broken in half
Again one of the Rodmans was broke in half
Yet againg Rodman was broken in half
Hell in a Cell is one of the King's favorite matches
After retard fighting Ice Train
...Really Rodman was borken in half... again
...Really... We can just say Rodman died because of how many times he's been thrown off the cage
Ice Train finally went off the side of the Cage, after amny attempts by the Rodmans
Rodman betrayed Rodman
Did King mention Hell in a Cell is one of his all time favorite matches.
Elimnation Tag Results
Edit
| No | Elminated | By |
| --- | --- | --- |
| 1 | The Disciple | Brickowski |
| 2 | Brickowski | "Das Wunderkid" Alex Wright |
| 3 | 'Das Vonder Kid' Alex Wright | Robocock |
| 4 | Lord Steven Regal | Robocock |
| 5 | Brickowski 2 | Robocock |