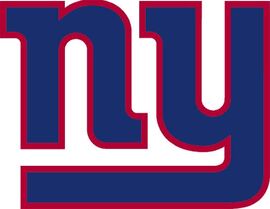 The New York Giants is a stable created by newLEGACYinc on November 30, 2013 during Wresltemania XXX, consisting (as of MITB) of just The Great Khali. It has to be noted here that none of these men were born, or even resides in New York, but chose the name because Sin Cara botched the name up. Vince Russo also probably had a hand in it, seeing as he was born in NYC. Kevin Nash, a founding member of the New York Giants, later turned on the group to become Diesel. Big Show left the group at Money in the Bank when he formed a Tag Team with The Rock.
In another time and place, another New York Giants stable formed, this time consisting of Nash, Khali, and Andre the Giant.
Upon the formation of the new combined universe, the Giants consisted of the 2K15 variation; Fruit Punch Paul did not return to the stable. Khali was then quickly traded to the Green Bay Packers in exchange for Enzo Amore.
Kevin Nash and Big Show (at the time The Giant) were in the n.W.o together while in World Championship Wrestling, and has teamed up numerous times, but all three of these men have never teamed up, or even been in the same ring as each other at one time.
2K14 Universe
Edit
At Wrestlemania XXX, The New York Giants were put in a 3-on-1 handicap match against Wolfpac member Triple H, which they won in what was called "a cooldown match." Before the match, Kevin Nash tore his quad during his entrance. He said "it was the easiest paycheck I've ever gottten." During this match, Kevin Nash went around yelling at the crowd saying "I'M THE SHIT! I'M TELLIN' YA!". According to the dirt sheets, Aksana fucked the New York Giants, but she was not at the arena at the time to comment.
Before Extreme Rules, Kevin Nash left the group and renamed himself Diesel at Debra's request. Sin Cara later gave Diesel the Mexican Championship. At Extreme Rules, Big Show, who was sporting a bald head, competed in the main event fatal 4 way ladder match for the vacant Undisputed WWE Championship in a losing effort.
Current:
Andre the Giant
Kevin Nash
Enzo Amore
Former:
In wrestling
Edit
 Kevin Nash's finishing moves
The Great Khali's finishing moves
The Big Show's finishing moves