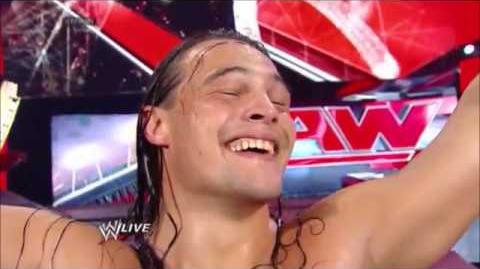 Summerslam (2014): The Biggest Swerve of the Summer was produced by newLegacyinc and occurred on August 15, 2014. One of the BIG 4 pay-per-views, it was supposed to feature the debut of Bo Dallas. Summerslam also took place at Hitbox.tv, due to Twitch suspending nL's channel temporarily for apparent copyright reasons. It was a part of nL's contribution to the 2014 edition of TNAid for charity.
Background
Edit
After losing everything prior to Battleground, the leader of the Snaketion of Domination of Debra - K. Malik Shabazz Austin - won the full ownership of the nL-WWE. He defeated Sin Cara (leader of the Carabinet) and "Ghanawood" Hulk Hogan (leader of the New West Ofrica) during the kick-off main event to start the show which was the continuation to the shocking ending of Money in the Bank. Austin had the help of the guest referee at that time - the Late, Great Khali - who was christened as the "Punjabi Python", therein possibly joining the Snaketion.
And under the new leadership, everything that happened during the PPV was new: new titles, champions, alliances, talent, and yet, lots of swerves occured. Austin was more then happy when his fellow Snaketion member "The Viper" Randy Orton defeated both Scott Steiner and Edge to unify the Mexican Championship &The Million Dollar Chris Hero Batista Memorial Iraqi Championship, thus becoming the D.U.M.B or (Debra Unappreciates Mexicans Belt).
Following the tag team match between Perfect Buns and Latino Heath, Hulk Hogan kicked out "Cotton-Eyed' Joe Hennig for trying to recruit the referee - Triple H (who was thinking about burying talents) - and his tag team partner at that time - King Kong Bundy (who was thinking doing scoop slams). However, things changed during the main event when the newest member of the nWo, "The World's Strongest Ofrican" Mark Henry defeated Butt "Shitman" Fart for the BIG SHITTY CANADA, renaming it The BIG SPLITTY WIG, much to Hogan's rejoicement, as well as the people of West Ofrica (who decided to stay for the rest of the PPV).
Apparently, Bo Dallas - the new Paul Heyman Guy - was supposed to debut at the show in a championship match, but he was delayed until Summerslam due to being stuck in his summer residence in BO-livia.
---
Some matches that have been teased for this show include a main event confrontation for THE BIG SPLITTY WIG between newWestofrica's Mark Henry and possibly the newest Paul Heyman guy Bo Dallas. But with Stone Cold at the helm, who knows what swerves may occur?
Another mystery match could be the latest fight for the Tag Team Championships, where champions "DeGeneration Mex" will go up against #1 contenders "Perfect Buns". The Rock and Big Show i.e. "IT DOESN'T MATTER "WHAT THEIR NAME IS!" are waiting in the wings with the tag team Money in the Bank.
Lastly, ANOTHER Paul Heyman guy may be revealed at the event.
Match Card
Edit
No.

Match
Stipulation
Notes
Kick-off
The Rock, Jack Swagger, & Tensai def. 'Zombie Enthusiast' Nick Nemeth, Titus O'Neil, & Mr. McMahon

Six Man Tag Team Match for the #1 Contendership to the 3MB Championship at a later date
"The Biggest Fight of the Summer"

Tensai returned from his shoot firing following Wrestlemania XXX.
Butt "Shitman" Fart was fired for slapping a social worker before the match, causing him to be replaced by Nick Nemeth.
Ziggler been buried so much, he's now a zombie
Mr. McMahon is So Depressed that He put himself on the Pre-Show
This match was supposed to be a tornado tag match, but Johnny forgot.
Titus won't stop barking.
Johnny has 'til 2:00am to Finish this Match
This Match was getting Disconnected by the n.W.o
Stone Cold randomly picked the winner backstage, possibly based on who pissed him off the least. Team 2 is said to be #1 contenders for the 3MB championships but honestly Johnny probably won't remember.

1
John Scott Hall (teaming with The Ultimate Warrior and Santino Marella) def. John Big John Studd (c)

Whoever gets the Pin, Wins the Title
If John Big John Studd loses, His Name becomes "Big Studd"
John Big John Studd lost both of his legs in a drug deal gone bad, now his legs are prosthetic.
Scott Hall has come back from the Dead to hold a survey.
Warrior came out of the Diva's Hall of Fame ring for one night in a bid to become The Johntimate Warrior
Jon Arbuckle was the Guest Referee and Johnathon Taylor Thomas was the Guest Timekeeper
All of the cameramen were replaced by people called John
John Big John Studd walked out just like CM Punk at the Beginning of the Match
The Competitors attempted to start a "John-Ga" line at the start of the match
Santino outright refused to win through a John-Out.
The Ultimate Warrior decided to attack everyone because he doesn't give a JOHN!
John Big John Studd landed on his NECK falling out the Top Rope!
John Big John Studd was pronounced a Johner part way through the match
The winner was decided in a dance-off
John Scott Hall won via a Poll

2
Justin Gabriel def. Randy Orton(c), Virgil, & Big Show

Fans were told to put their hands over their asses and chant We The Poople
This is Virgil's first ladder match since being deemed shoot retarded at Extreme Rules.
This is Justin Gabriel's first match since returning from the afterlife
Justin Gabriel debuted his new talk show, Justin.tv
NewLegacyInc officially jumped the shark with Virgil jokes
Caveman said when the million dollar man dies in heaven he'll be greeted by 52 Virgils
Big Show botched an indy moment by jumping from the ladder in the ring to the concrete
Orton murdered himself and Gabriel with an RKO of the ladder.

3
Kaitlyn (c) def. Askana, Lita & Stephanie McMahon

Aksana was allowed in the match in honor of the fight against cancer.
Aksana came out with Mystery Taker hat
Kaitlyn was mistaken for Seth Rollins.
Once again, Kaitlyn came out of retirement
Kaitlyn came back uglier than ever, this time with buck teeth
The match was contested within the COCAGE!
Kaitlyn retired yet again.
Because Kaitlyn retired with the title, the next match happened, leaving the status of the Divas Hall of Fame Ring in question.

4
Natayla def. Layla and Summer Rae.

Triple Threat Hell in a Cell to crown the first Gravy Bowl Champion with Special Referee Macho Man Randy Savage

Winner also gets to marry Macho Man
Natalya no longer farts, and is now one third of the Full Blooded Natalians
Layla became one with Summer Rae
This match was sponsored by Alberto Circle Jerky
Natalya married Macho Man

5
New West Ofrica Alliance (CM Punk & Hulk Hogan aka "The 24-inch Pipebombs") def. D-Generation-Mex ('Born Again, Again' Shawn Michaels & El Patron) (c)

Paul Heyman had announced two new Paul Heyman guys
According to Johnny Bo Dallas is still in Bolivia
The Paul Heyman guys have merged with the New West Ofrica
CM Punk is the Best in the Third World
Exclusive Picture of CM Punk from his hiatus in new WEST ofrica http://i.imgur.com/p2MpPlt.png
Alberto Del Rio begins wrestling under his new name, El Patreon.
Stone Cold Steve Austin sold the rights to the name 'Alberto Del Rio'
Greatest tag move ever drop toe hold elbow drop YEAH!
Punk refused to save Hogan from a ringside beatdown and waited for the tag, despite being in the heel faction
Dan wanted a table spot during the match so he got one
Hulk Hogan lifted up the 500lb Shaun Michaels
To quote Slip "God dammit Duel"

Cash In
It Doesn't Matter What Their Name Is (The Rock & Big Show) def. new West ofrica (CM Punk & Hulk Hogan) (c)

This was a cash-in
The Rock and Big Show had both been on the card earlier but they returned over 10 years older for this cash in
Stone Cold attempted to recruit Hogan to the Snaketion after the match, on account of his Pythons

6
Ric Flair def. Big E, Chris Jericho and Sin Cara

Fatal-4-Way TLC match for "Dem Cakes"

The winner of this match has the rights to make cakes for 12 months
Sin Cara has fallen on hard times since losing ownership of the WWE.
Big E temporarily died in the greatest table spot of all time

Main Event
"The World's Strongest Ofrican" Mark Henry (c) def. "Lionheart" John BL, Mike "The Jiz'" Big John Studd, & The Bikertaker

Stone Cold was pissed that the nWo retained. Making Henry the first to retain the world title
Dolphins1925 Predictions
Edit
Tensai, Swagger, and The Rock defeat Ziggler, Titus, and McMahon. (FUCKING NWO HACKING MY BLOG. QUIT CHANGING MY SHIT.)
Scott Hall Pins John Big John Studd for the Interjohntinental Championship. (Correct)
Justin Gabriel wins the Fatal 4 Way Ladder match for the D.U.M.B. Championship (Correct)
Stephanie McMahon Wins The Divas HOF Championship (FUCK MY SOURCES, I HATE LIERS)
Summer Rae Wins The Gravy Bowl Championship and Marries Randy Savage (FUCK MY SOURCES GOD DAMMIT GIVE ME MY ASPRINE)
D-MEX Retains Tag Titles (THIS IS BULLSHIT, AUSTIN HIRED NEW CREATIVE!!!!)
new WEST ofrica Retains (FUUUUUUUUUUUUUUUUUUUUUUUUUUUUUUUUUUUUUUUUUUUUUUUUUUUUUCKKKKKKKKKKKKK)
Ric Flair Wins the rights to be Cake Maker (Correct)
JBL WINS THE BIG SPLITTY WIG (FUCK MY SORCES I'M GOING TO JACK OFF)