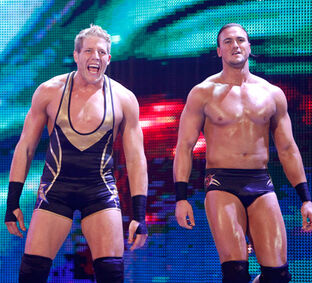 The Crew is a Tag Team consisting of Drew Mcintyre and Jack Swagger. Originally just the name of McIntyre's section of The Band, it became a full fledged team during the Extreme Rules Pre-Show when Jack Swagger turned on his Bollywood Blondes tag champion partner Jinder Mahal and joined Drew.
Sometime between WrestleMania XXX and Extreme Rules, there was some tension in the band, as Drew McIntyre joined a group called The Crew, forcing Scott Hall to start The Kliq. Despite both groups only consisting of one man, they constantly butted heads and many surveys were had.
The Crew Gets Some Swag
Edit
At Extreme Rules, Tag Team Champion Jack Swagger abandoned his partner Jinder Mahal to join McIntyre in The Crew soon after Drew had abandoned Scott Hall and left The Band. As a result, Swagger gave up his title, making Jinder Mahal both Tag Team Champions on his own. At Payback Day 3, the Crew got their first piece of gold. After Jack Swagger shocked the internet world and won THE BIG GOLD by defeating Ryback, Kofi Kingston, and Damien Sandow in a tables match. Jumping from the top rope through the table that Sandow was placed upon a split second before Ryback could superplex Kofi through it. Swagger quickly renamed the championship. THE BIG AMERICA!
The Crew considered aligning with Sin Cara and dubbing themselves "The Sin Cara Crew". But Swagger refused to join Sin Cara as he hated Mexicans. (As seen by his constant stomping of the Mexican Flag)
Championships
Edit