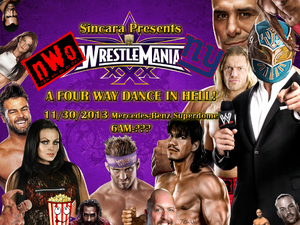 WrestleMania XXX
was the 30th annual virtual
WrestleMania
professional wrestling
pay-per-view
(PPV) event produced by
WWE
and
newLEGACYinc
that was held on November 30, 2013 at the virtual
Mercedes-Benz Superdome
in
New Orleans
,
Louisiana
. The event was the first virtual WrestleMania to be held in the virtual state of
Louisiana
. Football player 
Quatro Quatro
 and Chris Hero (who later died from a flying ladder) were at the show, breaking an attendence record of 1. It was later revealed that
Vince Russo
was hired on for a one-night stint with the company to help write this show. Despite making barely any money in ticket sales, the joint companies of WWE and nL made a total of $623,995,137, due to the amount of people who tuned in to see their favorite celebrities and on record popcorn sales during the extra long Diva Match.
The Hall of Fame class included "Million Dollar" Maven, Scott Steiner (who inducted Maven), the Ultimate Warriror, and the infamous Lita.
This was considered by many the best WrestleMania event in WWE history, due to Sin Cara's amazing booking skills.
Match Card
Edit
No.

Result
Stipulation
Notes
Kick-off
The Bollywood Blondes (Jinder Mahal & Jack Swagger) def. The New Nexus (CM Punk & David Otunga)
Extreme Rules Tornado Tag Team Match for the WWE Tag Team Championship

If CM Punk were to lose, he would be forced to give half his property to his ex, Divas Champion AJ Lee.

1
Sin Cara (w/ Aksana) def. Brock Lesnar (w/ Triple H) (via DQ)
Singles match. Winner becomes the new general manager of RAW

Brad Maddox and Vickie Guerrero were murdered.
Sin Cara won via DQ.
Aksana turned on Sin Cara and joined The Wolfpac along with Brock Lesnar, Triple H, Scott Hall & Xavier Woods.

2
The Band (Drew McIntyre & Scott Hall) def. Team HartBurn (Kane & Bret Hart) (via DQ)
Tag team match to determine #1 contenders for the WWE Tag Team Championship

Impromptu match made by Sin Cara.
Between the last match and this match, Drew McIntyre joined The Band.
The name for the team of Bret Hart and Kane was chosen via Poll on the nL App. Other canidates for the name were: "Harts on Fire", "Fire Harts", and "F.I.S.S." (Friends In Similar Singlets)

3
Eddie Guerrero def. JBL, Ric 'Blue Blazer' Flair & Ricky 'The Charizard' Steamboat (c)
Fatal four-way Hell in a Cell Match for the Intercontinental Championship

Eddie returns after 8 years of death to avenge Vickie's death at the hands of Sin Cara.

Ricky Steamboat became known as "The Shitty Charizard" in this match.
Flair paid homage to Owen Hart by wearing his Blue Blazer robe, skinned off Owen, to the ring and attempting to flop off of the cell. He was also caught blading before the match began.

4

Aksana def. AJ Lee (c), Natalya, & Layla
4 Divas Battle Royal (pinfalls and submissions only) for the Diva's Championship

Popcorn Match.
The people in line for the restroom in the arena was greater than viewers during this match.
Sin Cara left Road Warrior Cawk out of the Diva's battle royal, much to the dismay of many wrestling fans and nL fans alike. She was replaced by the returning Layla.
AJ insulted Stu Hart and Natalya (shit) in Aksana's bag and the Diva's Title to build this match up.
Sin Cara added the stipulation of only strikes and no grapples mid-match.
Natalya only pissed herself a total of 4 times during this match, which was a WrestleMania record.
Sin Cara once again changed the stipulation mid-match to only aerial strikes.
This match resulted in the biggest number of bags of popcorn sold in the arena's history.
Aksana brought the first championship to The Wolfpac.
This was the first time Team "I Fart You" (Aksana and Natalyla) ever faced eachother since they won the Diva's Tag Team Titles against the "Chickbusters" AJ and Kaitlyn, who, if you didn't know, loves DEATHMETAL!

5

Undertaker def. Wade Barrett, R-Truth & John Cena

Fatal four-way Steel Cage Match

Undertaker Streak Match.
According to Wikipedia, this was Undertaker's last match.
Before the match, Wade Barrett was comanding John Cena to "fetch me a glass of wart-ah". During the match, Wade also asked R-Truth for some weed.
Wade Barrett confused R-Truth for a bartender.
R-Truth represented the Ministry of Darkness for this match. He also became the Hurricane at one point.
The Undertaker's streak became a glass of water and was on the line here.
To combat the alliance of Truth and Taker, Cena and Barrett formed a team called "The Ministry of Water".
The Undertaker was looking for revenge for his pointless burial at the hands of Nexus.
Cena teased joining  the Ministry of Darkness at one point during the match, whilst rebelling against his former master, Wade Barrett.
R-Truth turned on The Undertaker and the Ministry.
After Truth turned on Undertaker, the Ministry of Water merged with The Undertaker and helped Taker win the match by climbing out of the cage.
Undertaker goes 22-0.
TWENTY-TWO!?

6
Stone Cold Steve Austin def. Sgt. Slaughter (c), Yokozuna & Debra (disguised as Curt Hennig)
Legends Money in the Bank Match and for the Iraqi Championship

Sgt. Slaughter represented the Iraqi Shield (Him, Goldberg, & Dean Ambrose).
Sgt. Slaughter was coked up during this match.
Curt Hennig returned after a decade of death.

Hennig represented the NWO (No, Whites Only) during this match.

Steve Austin came out to beat Debra.
Curt did a line on the mat outside the ring during the match.
Curt Hennig turned out to be Debra dressed as Curt Hennig.
Chris Hero died mid-match, due to a ladder flying out of the ring and into the crowd. 
Austin broke his spine upon securing the briefcase. He later had to vacate the briefcase and the Iraqi Championship due to his broken spine.
At one point in the match, Austin grew in size and tried to leave. He was shrunk down when Yokozuna landed on him.

7
Million Dollar Maven def. Diesel, Scott Steiner, & The Giant
Money in the Bank Match and for the  Chris Hero Memorial Iraqi Championship

Match for the vacated and newly renamed Chris Hero Memorial Iraqi Championship and Money in the Bank Briefcase.
Scott Steiner stole Million Dollar Maven's tights.
Nidia is actually the ring announcer. FUCK IT.
Dedicated to the late Chris Hero.
Hall of Fame Class of 2014 competed in this match.
It was later reported that all 4 men involved in this match were seriously injured to near death.
The Chris Hero Memorial Iraqi Championship was renamed to the Million Dollar Chris Hero Memorial Iraqi Championship.

8
The New York Giants (Kevin Nash, The Great Khali & Big Show) def. Triple H
Three on One Handicap Cooldown Match

Cool-down match.
Triple H represented The Wolfpac.
Triple H was fucked.
Big Show is now the New York Met AKA The Met Show.
Triple H isn't in deep shit, he's in deep dish.
Aksana apparently fucked all the New York Giants.
Kevin Nash tore his quad during his entrance. It was the easiest paycheck he ever got.
Triple H tried burying 1,248 pounds!
During this match, Kevin Nash went around yelling at the crowd saying "I'M THE SHIT! I'M TELLIN' YA!".

Main Event
Edge def. Bradley Cooper (portraying & representing Zack Ryder) (c), Justine Gabriella, ALBERTO DEL RIO (long hold on all the letters)
Extreme Rules Fatal Four Way Match for the Undisputed WWE Championship

Justin Gabriel (the 2014 Royal Rumble winner) and Del Rio represented the LWO (Lex World Order).
Match was originally scheduled to be Zack Ryder vs. Justin Gabriel until GM Sin Cara remembered how much he liked Edge vs. Del Rio and Wrestlemania 27 and added them.
Prior to this match, Howard Finkel announced a brand new attendance record for the Mercadez-Benz Superdome of 1. The record would have been higher if not for Chris Hero dying during the Money In The Bank match.
Ricardo Rodriguez chose to introduce Alberto Del Rio by conducting a Howard Finkel impression.
Zack Ryder down with Seth Metal.
Ryder debuted his custom WWE Championship with a sunglasses design, which he wore on his shirt.

Cash In
Edge (c) def. "'The Million Dollar Man' Ted DiBiase" Million Dollar Maven Ricardo (c) w/ Special Referee David Batista
Special Referee Match for the Undisputed WWE Championship & The Million Dollar Chris Hero Memorial Iraqi Championship

Title vs Title Match.
Batista took his sweet ass time getting to the ring
He also reffed this match in his gear.
It turned out the Million Dollar Maven is Ricardo Rodriguez after all.
Batista screwed Maven by Batista Bombing him.

Cash In #2
Stone Cold Steve Austin def. Edge (c) w/ Special Referee Tensai
Special Referee Iron Man Match for the Undisputed WWE Championship & The Million Dollar Chris Hero Batista Memorial Iraqi Championship

Stone Cold cashed in after a quick recovery.
Stone Cold killed Batista with his ATV.
This match is for all the marbles
This match was an Iron Man match because either: Stone Cold, Sin Cara booking, or wrestling being fake.
Tensai took so long to get to the ring, Edge had enough time to change his attire.
Batista's spirit possessed Tensai.
Stone Cold came back as a heel to form The Power Trip with Tensai.
No one can trust Tensai.
Tensai swerved everyone.
A family of birds flew into the arena and began marking out.
Sin Cara had enough of Tensai's shit and threw him out.
Charles Throbinson replaced Tensai.
Stone Cold won 7-6.
Battle Royale Result
Edit
| # | Eliminated | By |
| --- | --- | --- |
| 1 | Layla | Aksana |
| 2 | AJ Lee | Natalya |
| 3 | Natalya | Aksana |
Aftermath
Edit
Directly after the show, Duel looked up what areolas were on wikipedia.
Despite the crowd's chanting "Daniel Bryan" and "Yes!" all night, Daniel Bryan did not appear. The crowd bitched about it on the internet and vowed not to watch until the next show.
Johnny was arrested for insider trading, but his attorney, David Otunga, somehow managed to get him convicted for the double murder of Vickie Guerrero and Brad Maddox, but due to a plea bargain, he only has to serve 90 days of community service.
J222 was found with half a key of Curt Hennig (who had turned into pure cocaine), thus forcing him to compete in an "I Shit" match with Dino Bravo, as ordered by Sin Cara. When asked to comment on the match, J222 stated "Thank God Dino Bravo was killed by the Canadian mafia, but at this rate, I'll never get around to making Jeri-MAX Jerimania. Damn all that money we made!".
Dino Winwood was found to have gone completely insane with multiple personality disorder, depicting Paul Heyman, Vince Russo, Aksana, and a man who called himself "Arm Van Dam".
RezClown continued his successful streak of bank robberies, stating "I'm gonna use all this money on nL....And a hot tub!"
After the match, in tribute to his favourite wrestler's victory, Johnny put on a bald cap and beat Debra. His penis is called Debra. Conversly Duel put on a blonde wig and kissed his Edge action figure telling him he'd make it all better, before telling me to get out of his house and stop spying it.
Two hours before the event Rey Mytserio was seen outside the arena and was said to be scheduled to defeat Undertaker that night but as soon as Rey took one step outside of his Limo his knee shattered completely causing him to retire and go back to abusing his adopted son Dominic and playing WWE 2K14 stories where he faces Edge in a ladder match.
L.T cashed in and became Prime Minister of the United Kingdom and King of the United Kingdom and all of the other Commonwealth realms. As Duel was effected by this cash in, we asked him for his thoughts, he replied with "Wikipedia says 'areolas' was one of Edge's favourite clothing labels. I've gotta get me some areolas!".
Reception
Edit
The event attendance was 1, which had broken the Superdome record. However, the crowd seemed to have been at least in the 10,000's. When asked about how the crowd looked so big, Howard "Fucking" Finkel said it was simply "a camera trick". The overall grossing of the event was $623,996,137 due to the high amount of popcorn sales during the women's battle royal.
The event garnered critical acclaim, despite the inconsistent booking of Sin Cara and the death of Chris Hero. Dave Metzler rated the show a 5/5, and he gave every match on the card a rare "5 star" rating, stating "Wrestlemania XXX brought us great wrestlers, fantastic matches, wonderfully executed swerves, and amazing popcorn sales. I can't wait to see what Sin Cara and Vince Russo do next."
Extreme Rules Implications
Edit
After the event, the following matches and angles were potentially been put into place for the next (maybe) virtual professional pay-per-view, Extreme Rules:
Undisputed WWE Championship & The Million Dollar Chris Hero Batista Memorial Iraqi Championship: Stone Cold Steve Austin (c) vs. Edge vs. Zack Ryder w/Special Guest Referee Tensai
WWE Tag Team Championship: The Bollywood Blondes (Jack Swagger & Jinder Mahal) (c) vs. The Band (Drew McIntyre & Scott Hall)
Divas Championship/Popcorn Match: Aksana (c) vs. AJ Lee vs. Natalya w/ Special Guest Ref Stu Hart
The Ministry of Darkness (The Undertaker, Wade Barrett, & John Cena) vs. R-Truth
CM Punk vs. David Otunga
The Wolfpac (Brock Lesnar, Triple H, & Xavier Woods) vs. The New York Giants (Big Show, Great Khali, Kevin Nash)
GM Sin Cara will also likely have some interaction with The Wolfpac after Aksana turned on him while inadvertently awarding him his new postion.
This is all likely to change as Sin Cara is booking alongside Vince Russo.